Discover starry sky island
in Tokyo
Kozushima Island is located 180km south of the center of Tokyo.
It's the first island in Tokyo, which was designated as an International Dark Sky Park (a Dark Sky Island) by the International Dark-Sky Association in December 2020 for its exemplary efforts in protecting starry nights and the nocturnal environment.
After the sun sets, the whole island is covered with darkness and turns into a natural planetarium.
Indulge in a star-studded sky view surrounded by great nature.
The first Dark Sky Place in Tokyo

Purpose and conditions for Dark Sky Places
"Dark Sky Places" is an international program that acknowledges the actions of some who try to preserve and protect the beautiful dark sky view from light pollution. It was founded in 2001 by the International Dark-Sky Association that has protected over 100,000km2 of night sky all over the world so far.
Dark Sky Place isn't just the site where the stars are observed clearly. Since the purpose of this program is to protect the night sky from light pollution, to be designated a location has to meet certain criteria, such as light pollution measurement and implementing educational programs and events about light pollution.
Managing the light at night helps to protect wildlife and saves energy. In addition, it also helps human beings with our natural life rhythm and is a source of inspiration as a universal natural resource.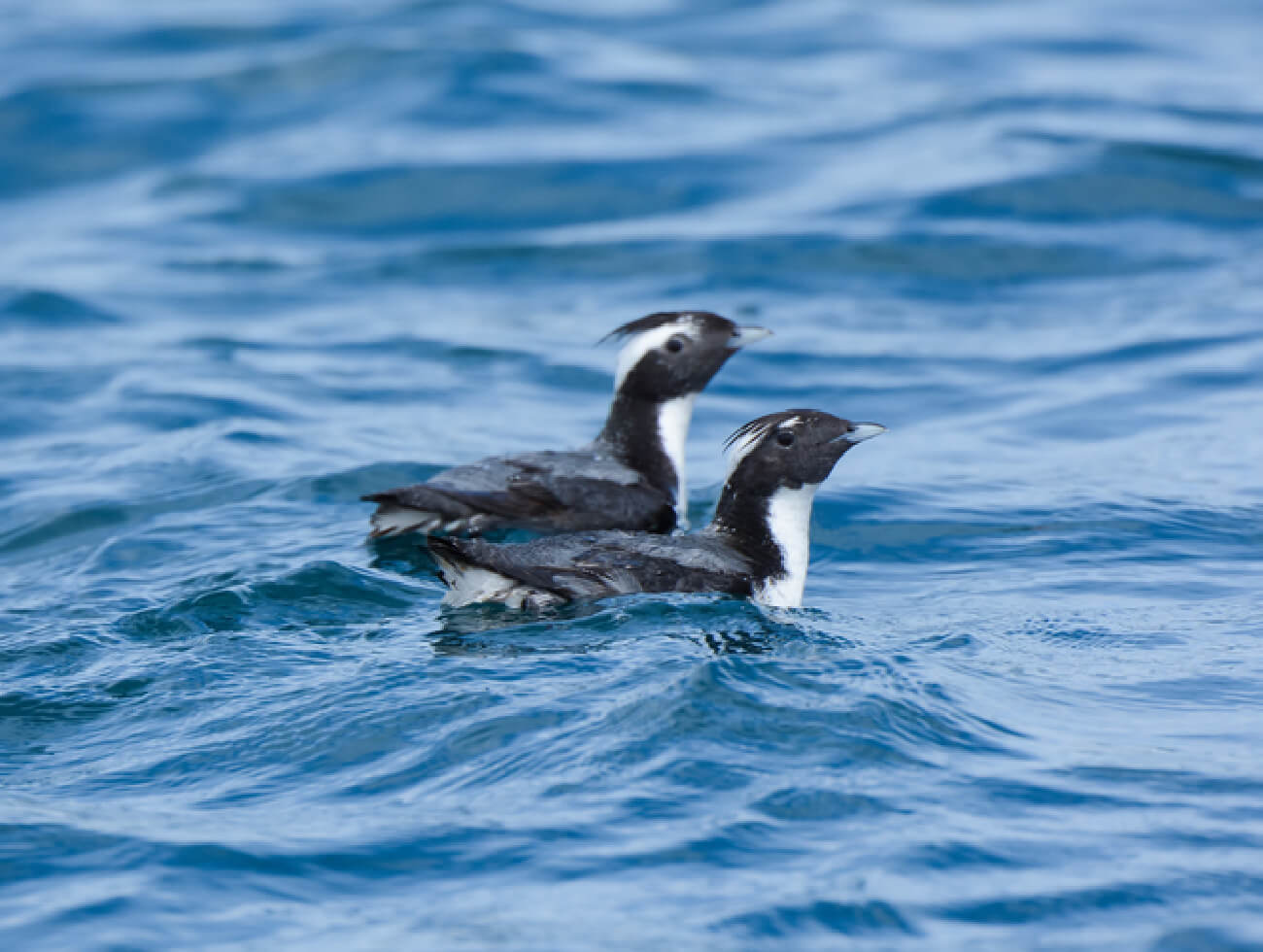 Dark Sky Places in the world
The International Dark Sky Places Program has five types of designations, such as Dark Sky Communities, Dark Sky Parks etc., which are designated depending on the site's characteristics. As of December 2020, there are 150 Dark Sky Places in the world. Some of them are famous for their remarkably beautiful starry skies, such as Tekapo in New Zealand, Namib Desert in Namibia and the Iveragh Peninsula in County Kerry, Ireland. They are popular among Japanese tourists.
In Japan, Iriomote Ishigaki National Park in Okinawa was awarded designation in March 2018. Kozusima Island in Tokyo was designated in December 2020 as an International Dark Sky Park. Some other sites in Japan are currently preparing for Dark Sky Place applications.
Kozushima Dark Sky Island logo

Geographical features
Kozushima Island is located 180km south of Tokyo and is the center of the Izu-shoto island chain. Most of the population of 1900 people live on the western side of the island around Kozushima harbor. Therefore, outside of the residential area there aren't many streetlights. This leads to the stars appearing brighter in the dark night sky.
Shikine-shima and Miyake-jima islands can be seen from Kozushima during the day. However, their lights don't affect stargazing on Kozushima. Kozushima Island has ideal topography for star gazing with a moderate elevation difference and with beaches that open out to the sea in both the east and west of the island.
Starry sky and islanders
Kozushima has been a thriving fishing community for a long time with regular catches of red bream. Fishermen sail out to the sea under the star-filled sky. The island's junior high and high schools are located with their schoolyards overlooking Maehama beach. On the way back home from school, students can look at the sunset and the first star of the evening. At sea or at school, wherever the islanders find themselves, a beautiful starry sky is awaiting them.
As mentioned earlier, an excellent night view can be enjoyed from anywhere on the island. Kozushima has been designated as an 'International Dark Sky Park', but it's also allowed to use the name 'Dark Sky Island' due to this uninterrupted night view.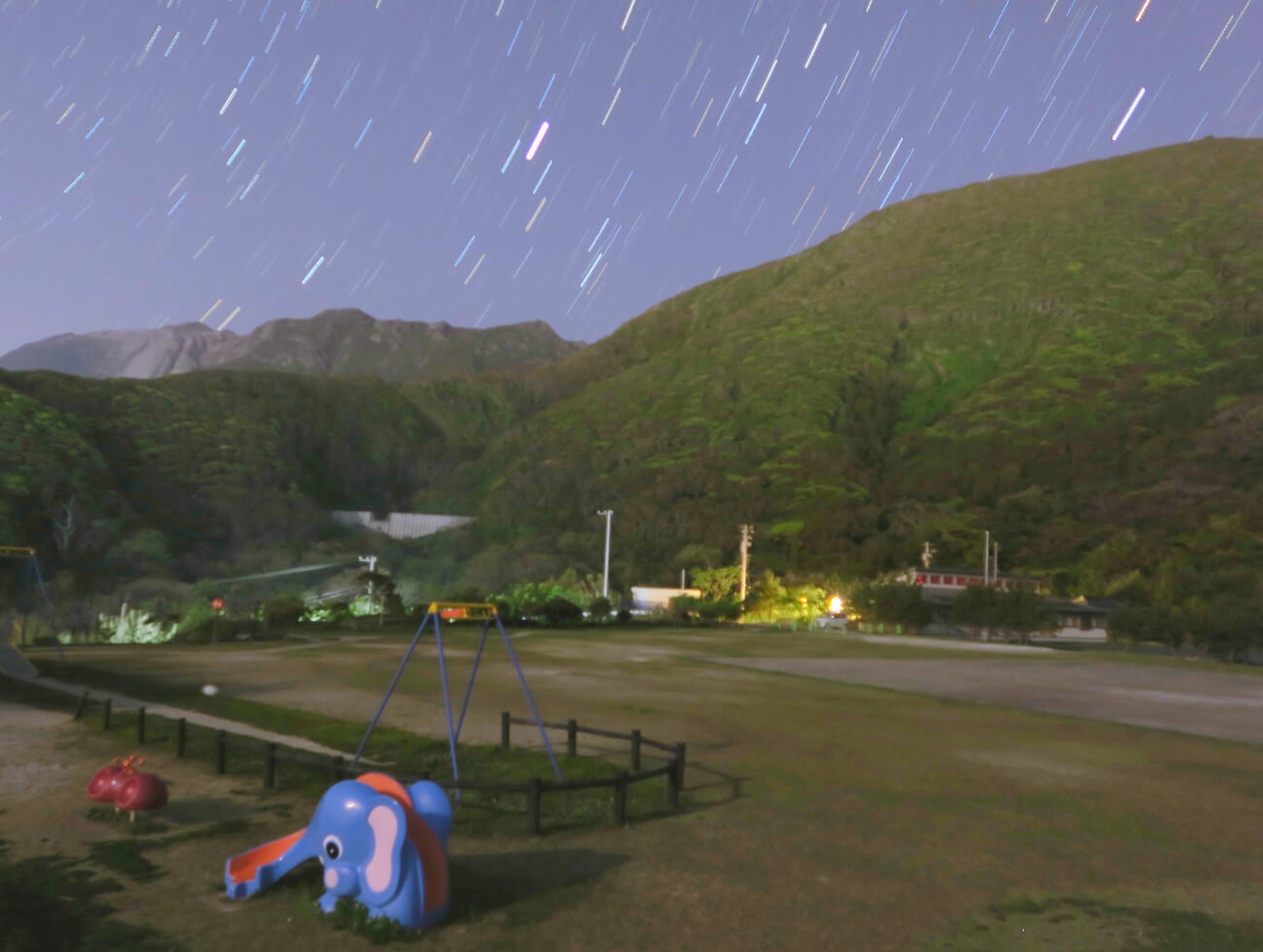 Replacing streetlights
In the summer of 2019, Kozushima started preparing for their International Dark Sky Parks application. The major project was to replace streetlights and security lighting with lamps that prevent light pollution. Replacing all the streetlights on the island requires money and time. With support from the Tokyo metropolitan government, it has been carried out swiftly. There are 536 streetlights/security lighting in total on the island and, as of January 2021, 90% of them have been replaced. This project is scheduled to be completed by March 2022.
The local people have been taking this change positively. Few people worry about the safety of darker roads. Some even got proactive ideas and started looking for other places where it could be darker.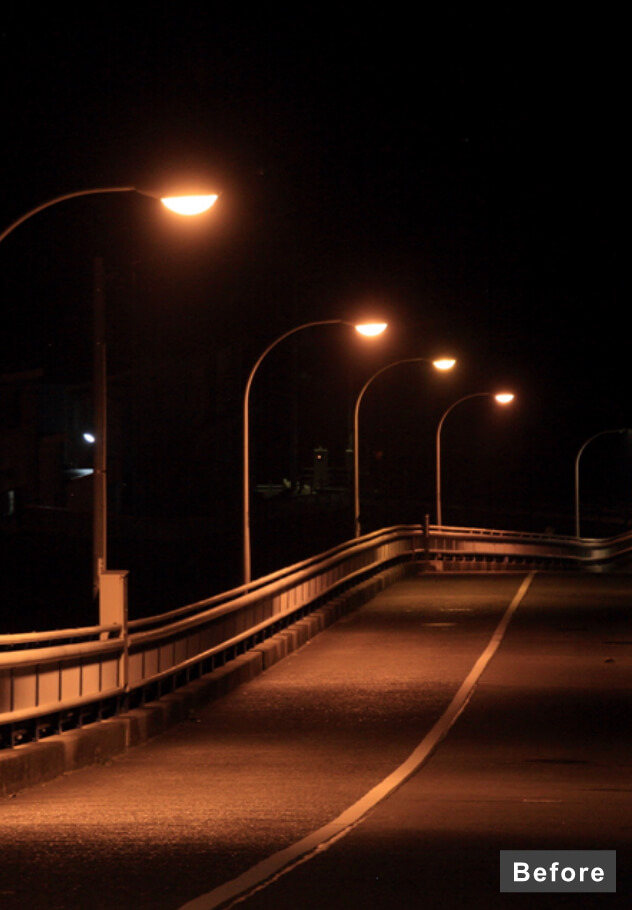 The above photo is a comparison of the old streetlights on the left with the recently installed light reducing lamps and shrouds.
Training local guides
One of the requirements for designation is to implement regular events to educate & promote methods to tackle light pollution and why it's important to do so. "Stargazing tour with local guide" project was recognized to meet this requirement. This had been conducted even before the island started working on its application for designated International Dark Sky Parks status.
The Kozushima stargazing guide training course started in 2016 aiming to train local people to conduct stargazing tours. During this course, knowledge is passed on, such as the characteristic of constellations specific to each season, the origin of constellations, the method to search for stars and cultural events based on the Lunar cycle. This knowledge is taught both in the classroom and in the field. These stargazing tours have become a special feature for the Kozushima tourism industry. On some nights, a tour can have almost 20 participants.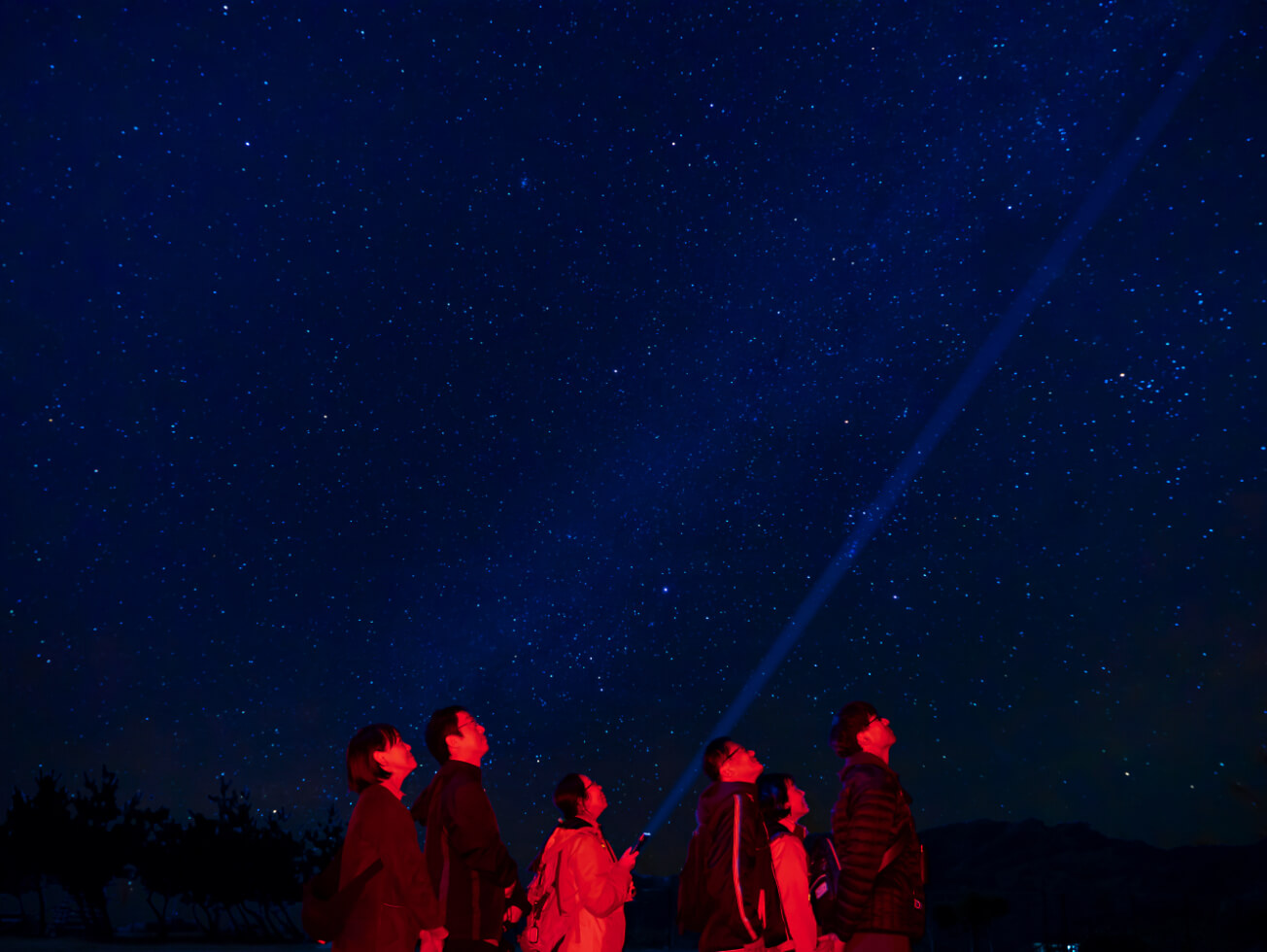 Enlightening local people
It was important that the issue of light pollution is explained fully to the local people. Darkening the streetlights could make people anxious and concerned about safety. Some might get worried about the potential threat of over-tourism that the designation could bring to this small island too.
To get the local people's understanding and support for the designation, the island held lecture presentations in addition to issuing the new "Bylaw pertaining to starry sky and parks in Kozushima Island Village" & "Anti-light-pollution bylaw pertaining to preserve beautiful starry sky in Kozushima Island Village". As a result, few people now worry about the new streetlights, and it seems to have become an opportunity for the local people to realize just how beautiful the night sky is on Kozushima, which has been taken for granted up until now.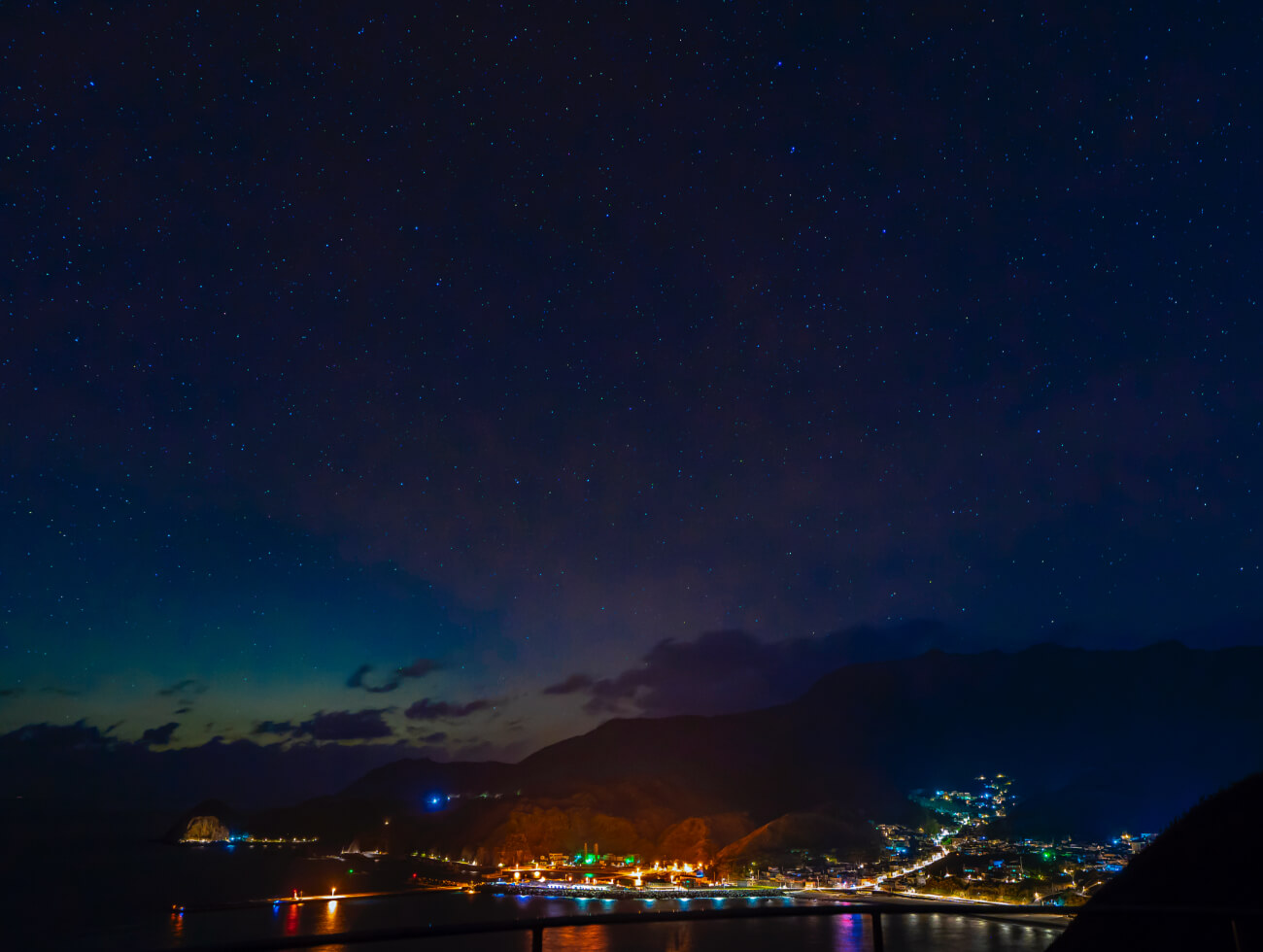 What does being a Dark Sky Island
mean to Kozushima?
The International Dark-Sky Association considers the night sky as our universal heritage. From ancient times, stars guided people when traveling and the starry skies inspired ideas for science and literature. If we restore the night sky to what it was in ancient times and for some of us as children, then we can pass it on to future generations. To protect this common heritage for humanity, Kozushima's efforts as a Dark Sky Island will continue.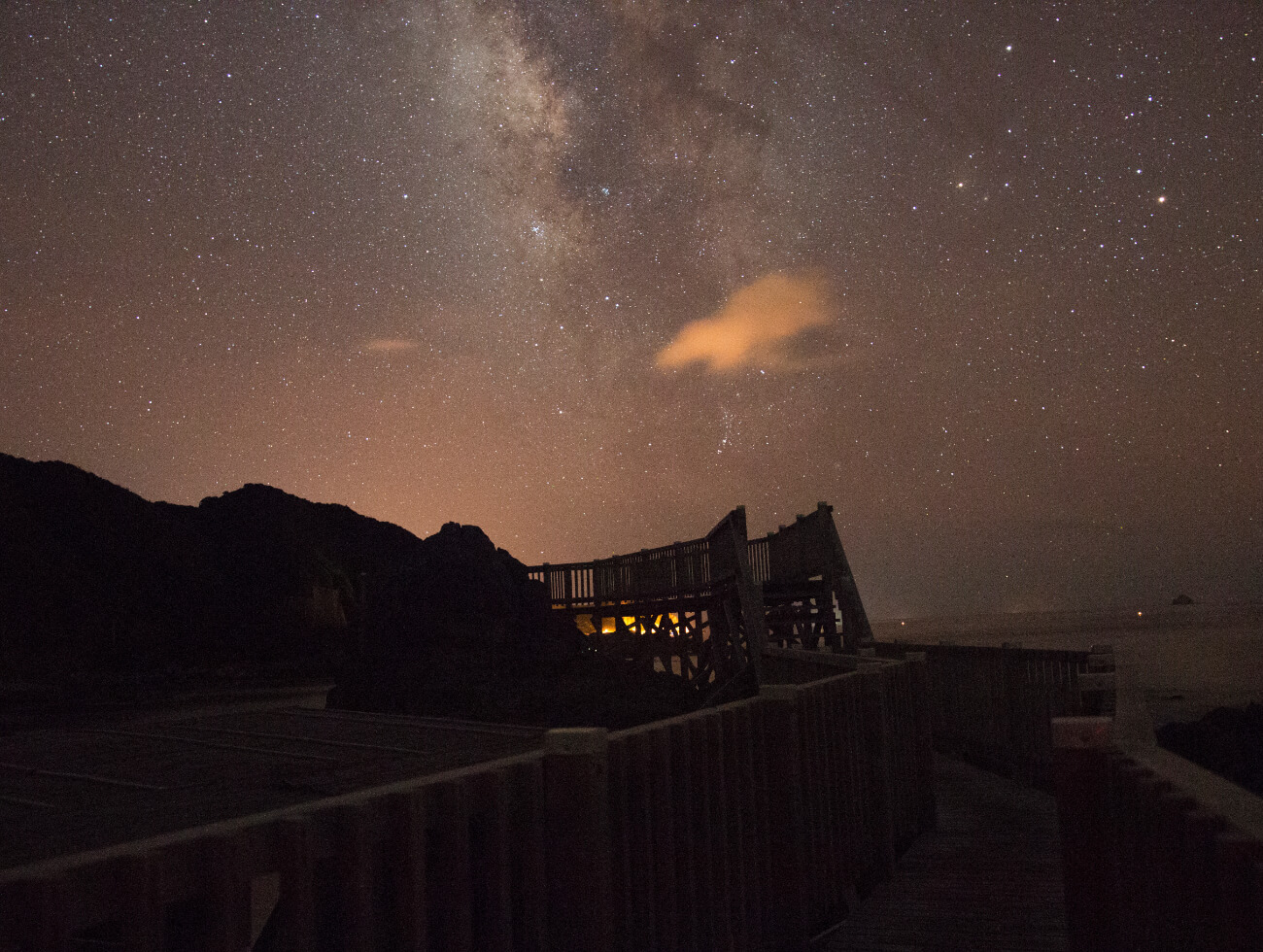 Discover an island's sky full of shimmering stars

Shops, historic landmarks & places of scenic beauty are all within walking distance on the western part of the island, where Kozushima's only town is situated. Why not pop into the local's favorite bakeries & shops and go looking for the Sarutahiko Ohkami Deity at any fork in the road? Enjoy strolling around the town while waiting for the stars to show themselves.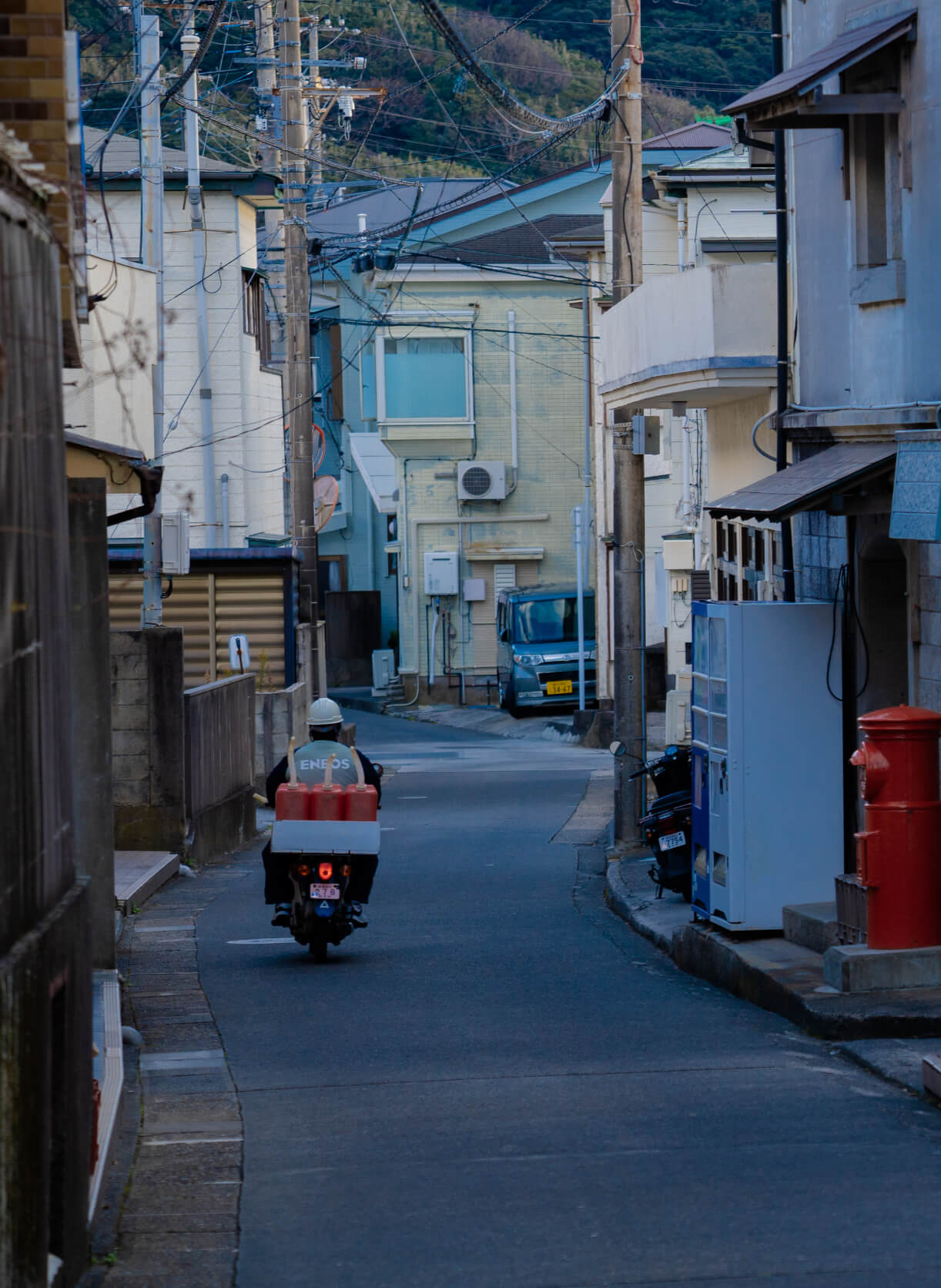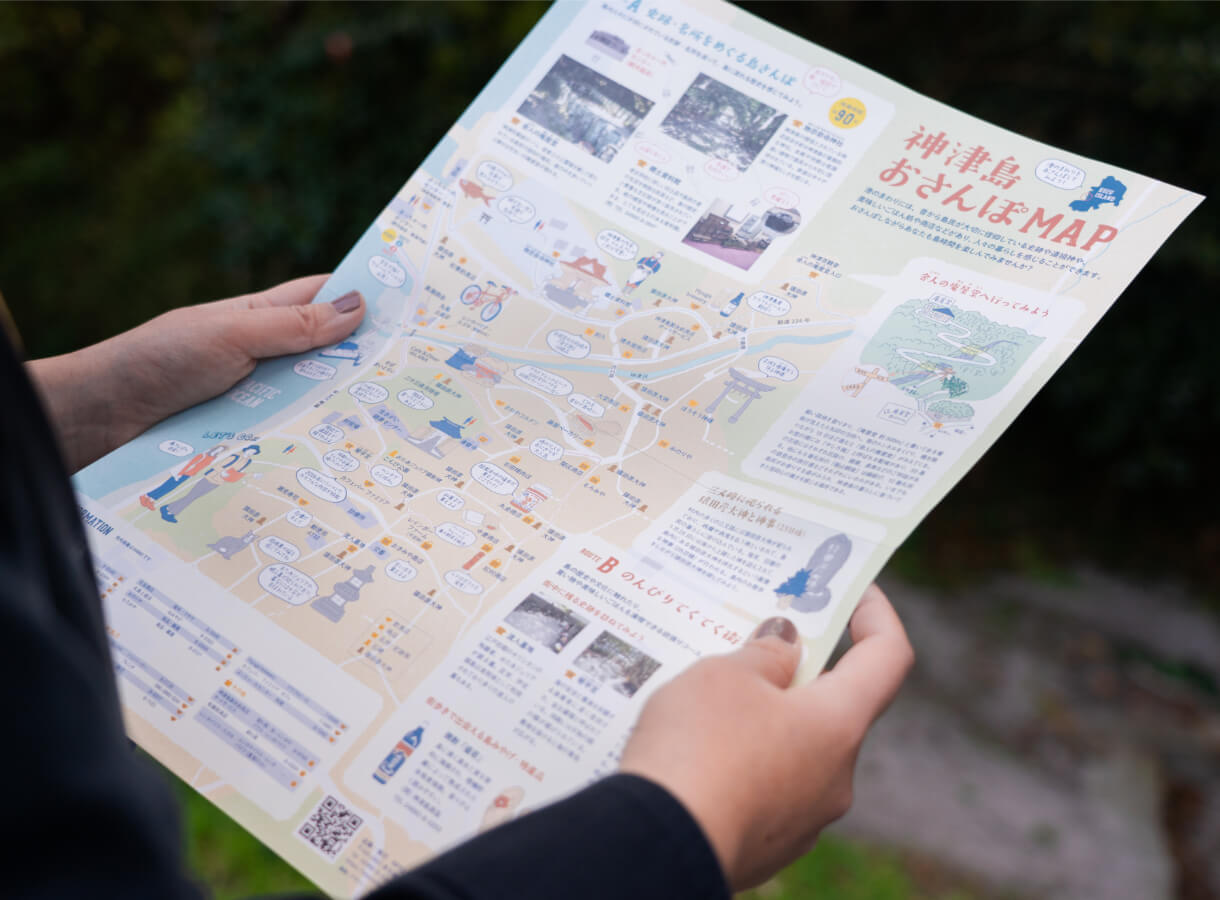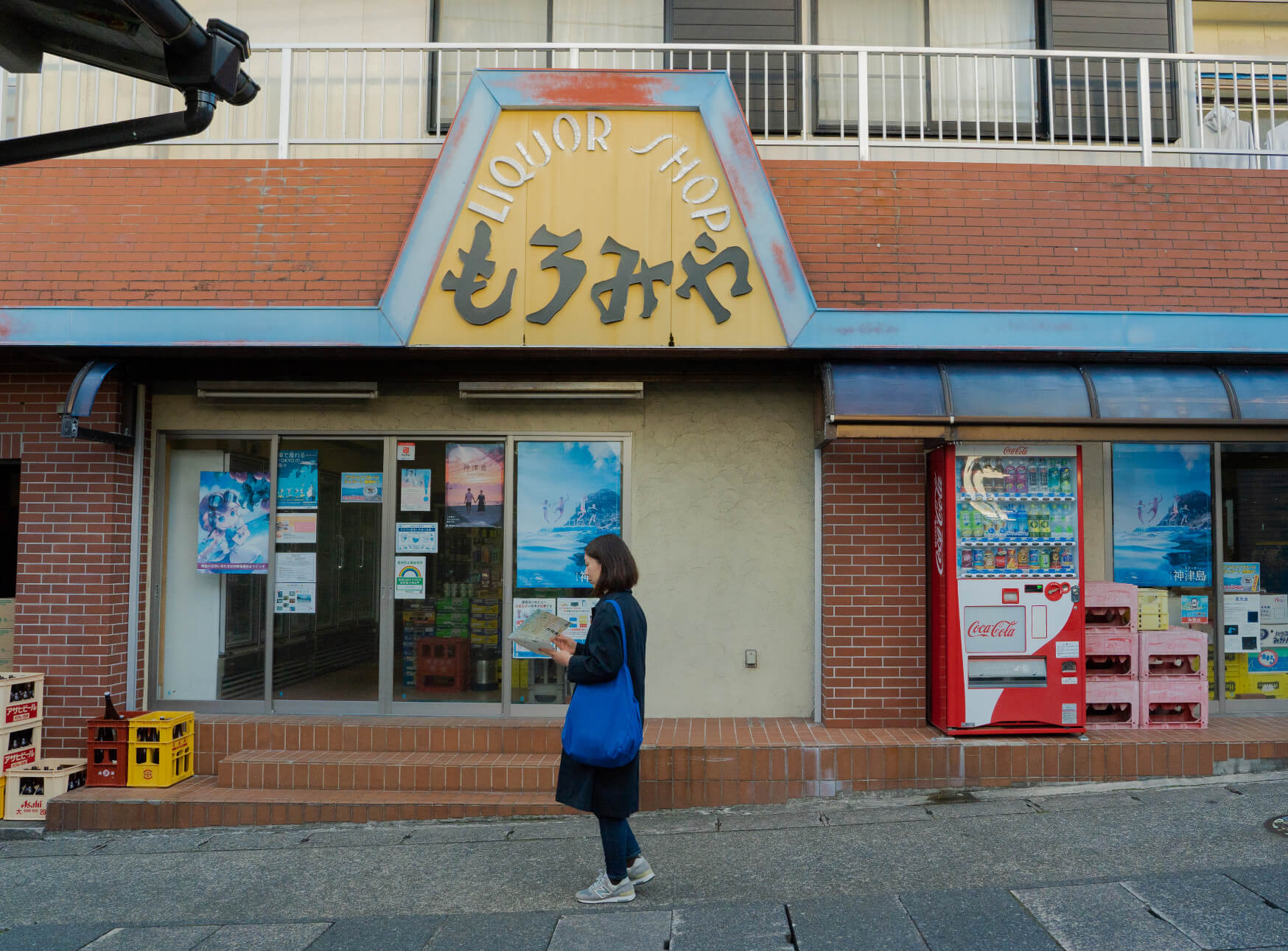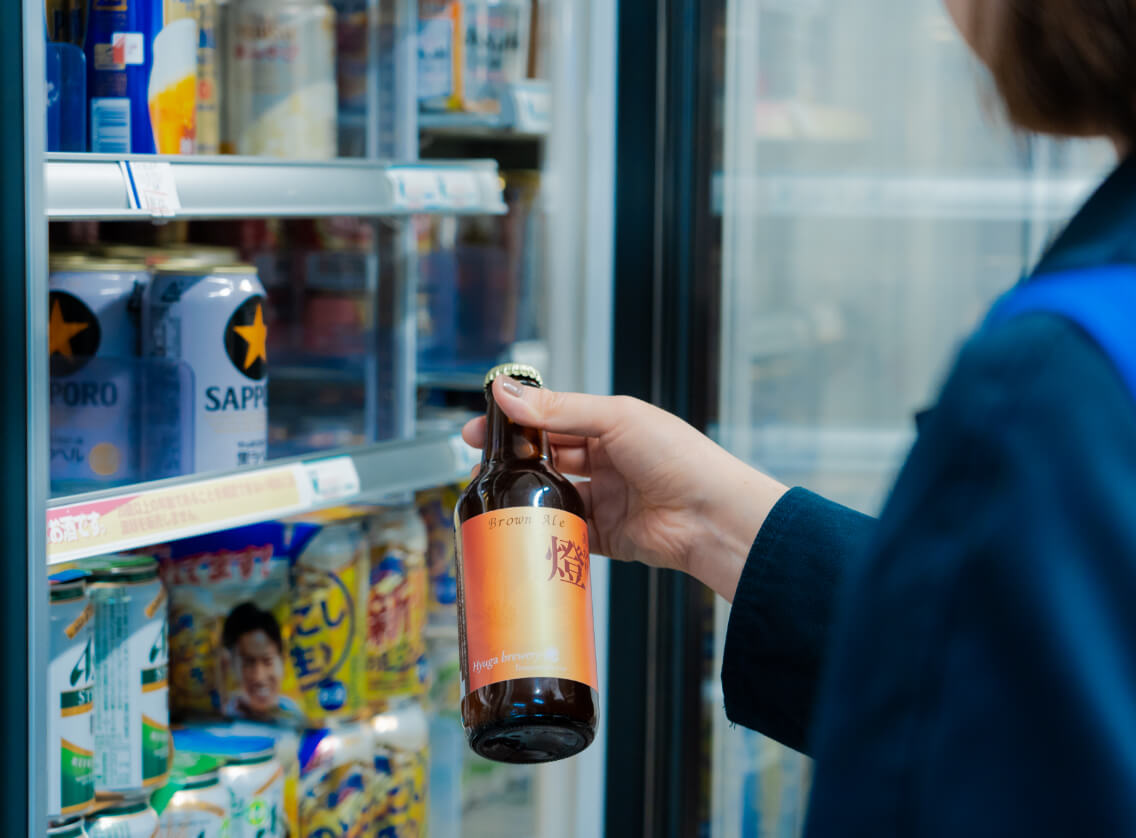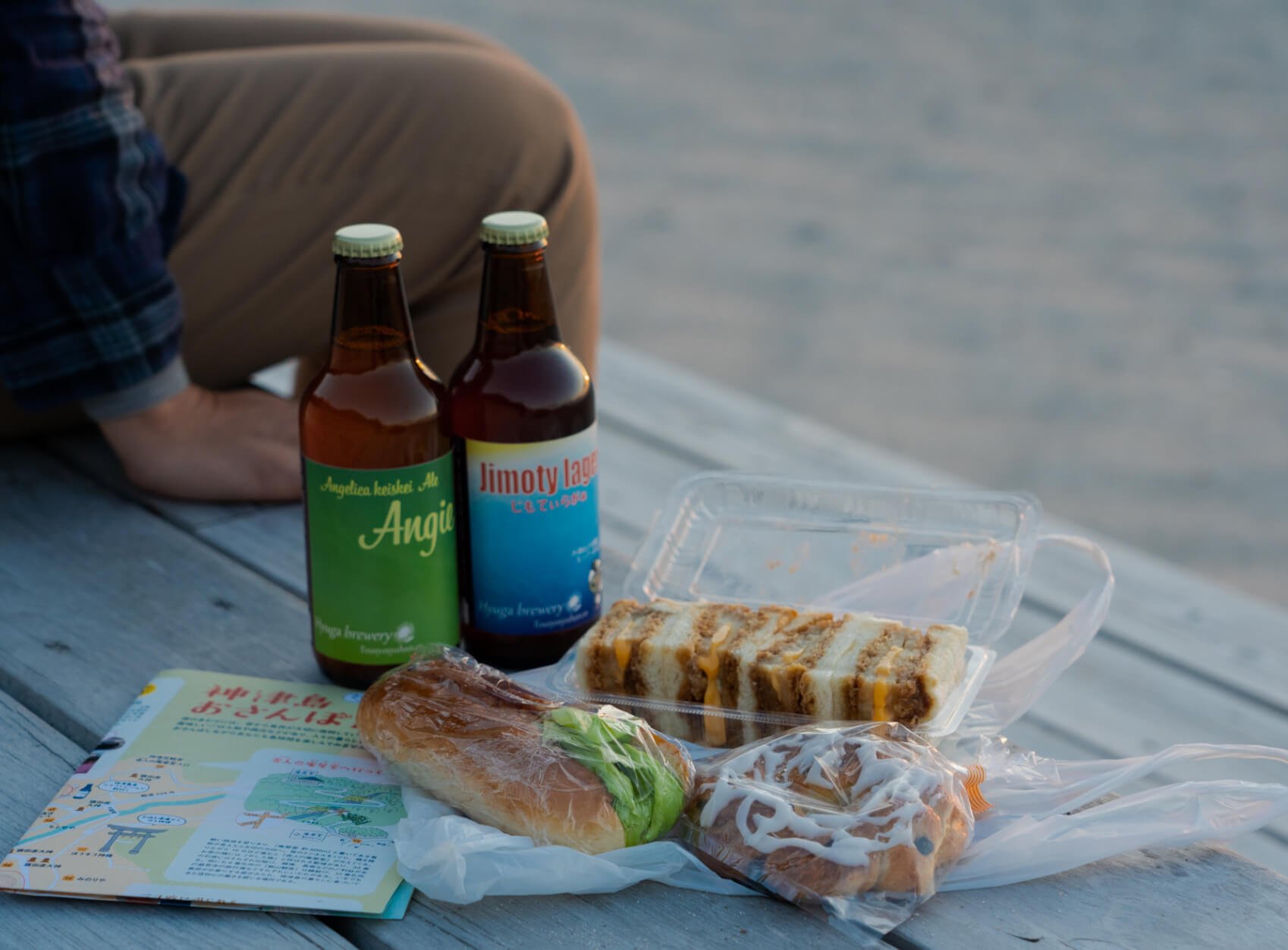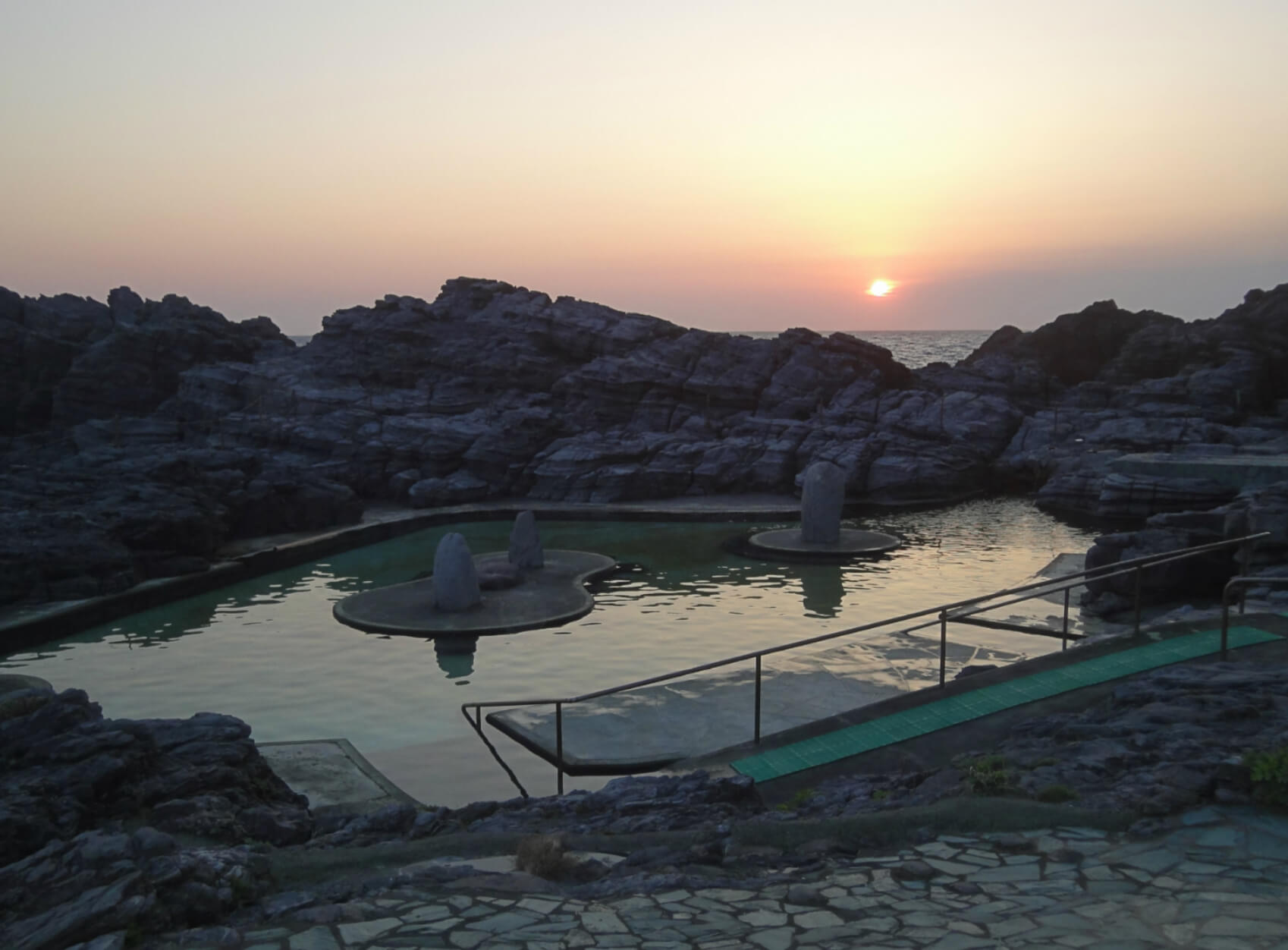 Some useful local knowledge and items for stargazing

Look up at the night sky from a suitable location, then look for the characteristic symbol of the season, such as the great summer triangle or Orion in winter. The constellation that is most familiar to you should be there. Knowing when the next meteor shower is will raise your chances of being able to see one drastically.

Canopus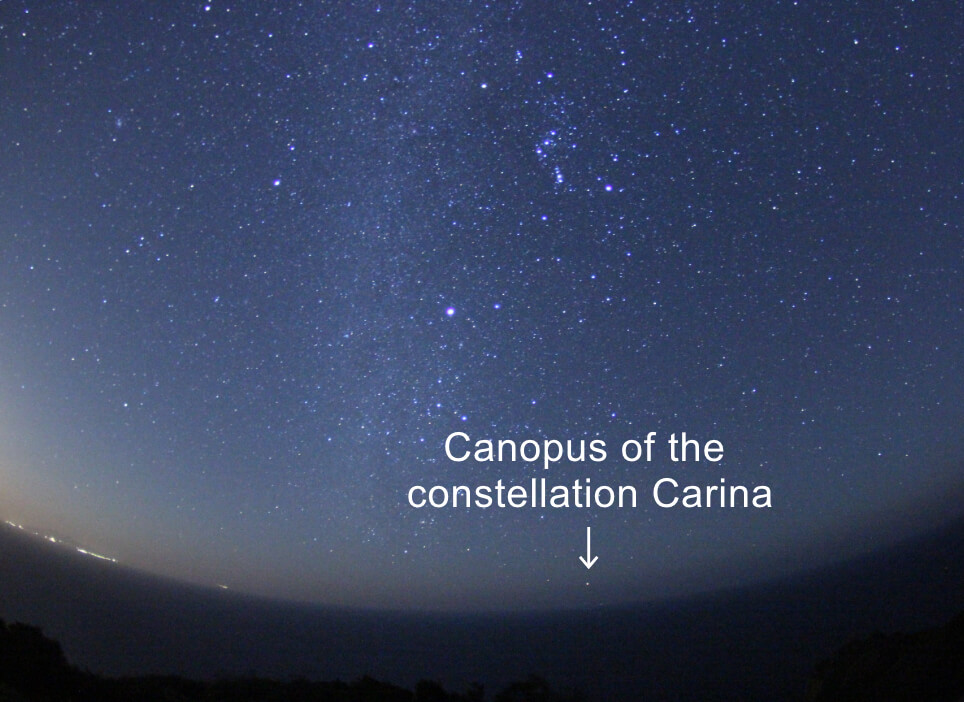 A fixed star rarely seen on the mainland. It's been said that your lifespan will increase if you see this star. In Kozushima, it appears right above the horizon in the south at around 8pm in February. Miura bay observation platform affords the best chance of seeing it.
Meteor showers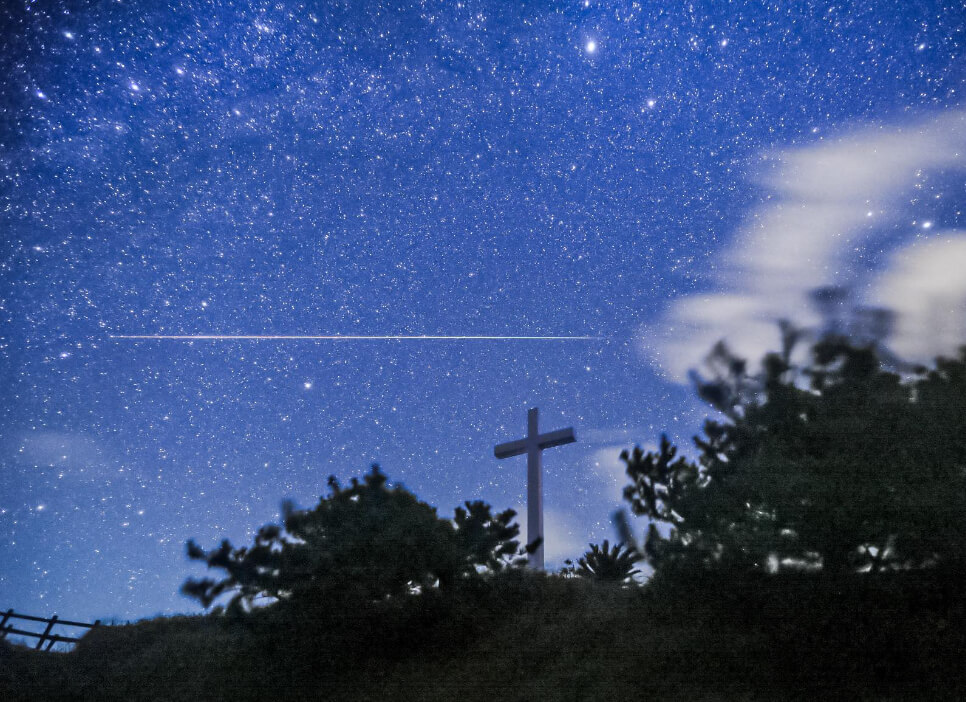 Various meteor showers are seen in Kozushima including 3 major ones (Quadrantids, Perseids and Geminids). It's a great location to see Geminids in December. Under the right conditions, thousands of shooting stars will appear in the clear winter sky.

The Giant Curve in Spring
A big curve from the tip of the handle of "North Dipper Seven Stars" to "Spica of the constellation Virgo" through "Arcturus of the constellation Boötes".
The Great Summer Triangle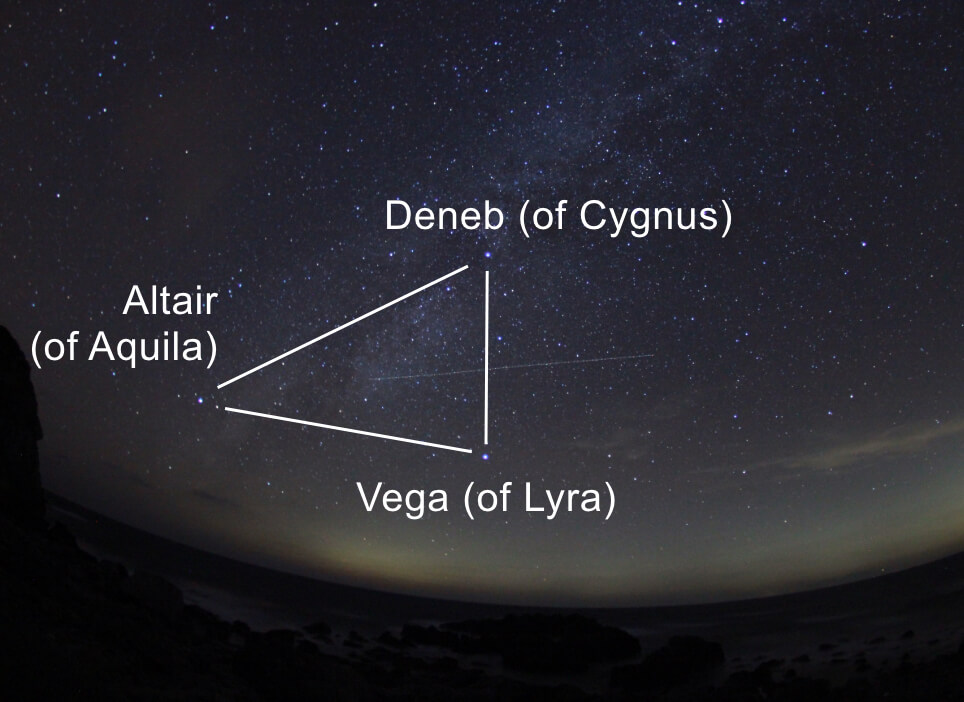 "Vega of the constellation Lyra", "Altair of the constellation Aquila" and "Deneb of the constellation Cygnus" makes a triangle shaped like a slice of pizza.
Great Square of Pegasus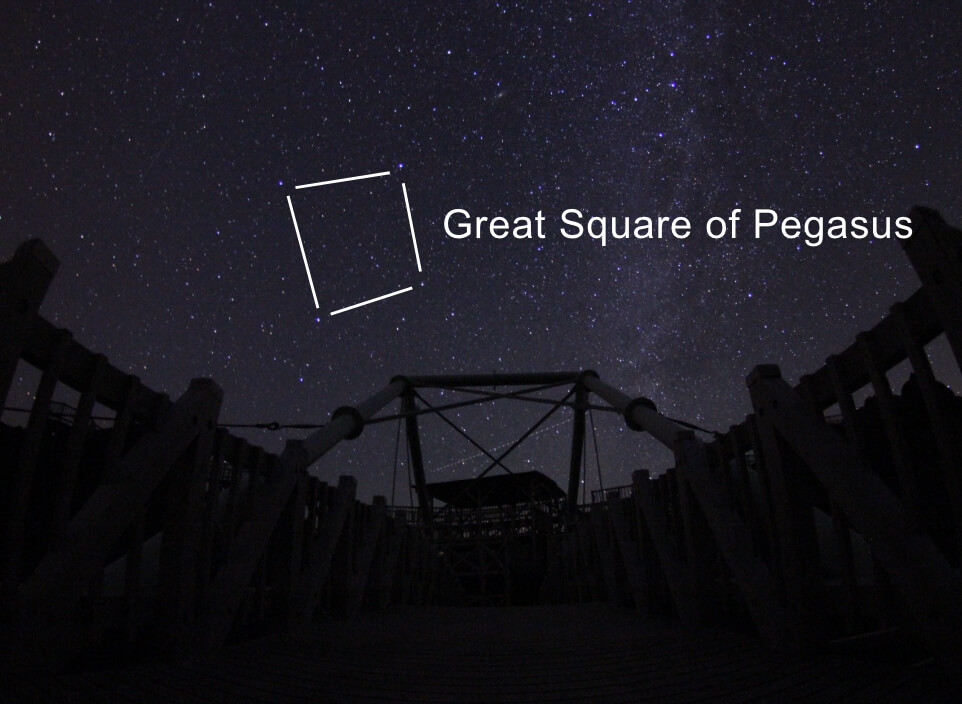 Not many bright stars appear in autumn, but a big square consisting of 4 stars isrecognizable high in the south. Three of these stars are from the constellation Pegasus and the other is of the constellation Andromeda.
The Winter Triangle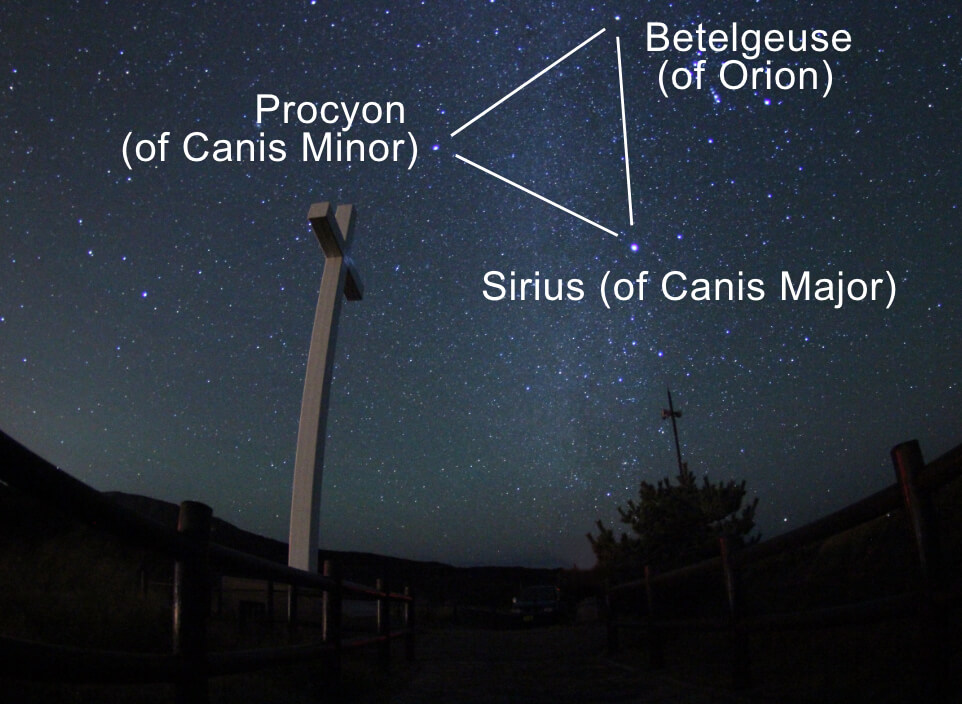 "Betelgeuse of the constellation Orion", "Sirius of the constellation Canis Major" and "Procyon of the constellation Canis Minor" make an equilateral triangle in the winter sky.

Something to keep out the cold
If it's not mid-summer, make sure to keep yourself warm! Especially during winter, take a shawl and a disposable heat pack since it's quite windy. With ground mat and a sleeping bag, you'll be able to stargaze lying down even during mid-winter.
Flashlight
It's always useful in the dark! flashlights with red are ideal as they will not ruin your night vision, or that of your fellow stargazers.
Insect repellent
You might want to keep it in your bag between late spring and autumn.
Warm drink
A warm drink is an added bonus on cold stargazing nights. Confectionary, such as candy and chocolate wouldn't go amiss either!
Planisphere
With a planisphere, you'll be able to know exactly which constellation appears and where it can be found in the night sky. You can purchase Kozushima's original planisphere from Kozushima Tourism Association office.
Binoculars
Easy to carry and use. It's also less tiresome on the eyes than a telescope.
Take a stargazing tour with local guides

At 8pm the stargazing tour starts from Yotane square within walking distance from town. Looking up at the night sky from an open field, while listening to an explanation from a local guide. It's just like a natural planetarium.
Each of the guides has their own way and style of explaining about the stars and constellations. For instance, we have guides who are great with children and another who relates her information to famous movies. These various approaches to presenting mean that you can enjoy the tour repeatedly and just the once. To be able to learn the local stories from the locals themselves is one of the biggest charms of these tours.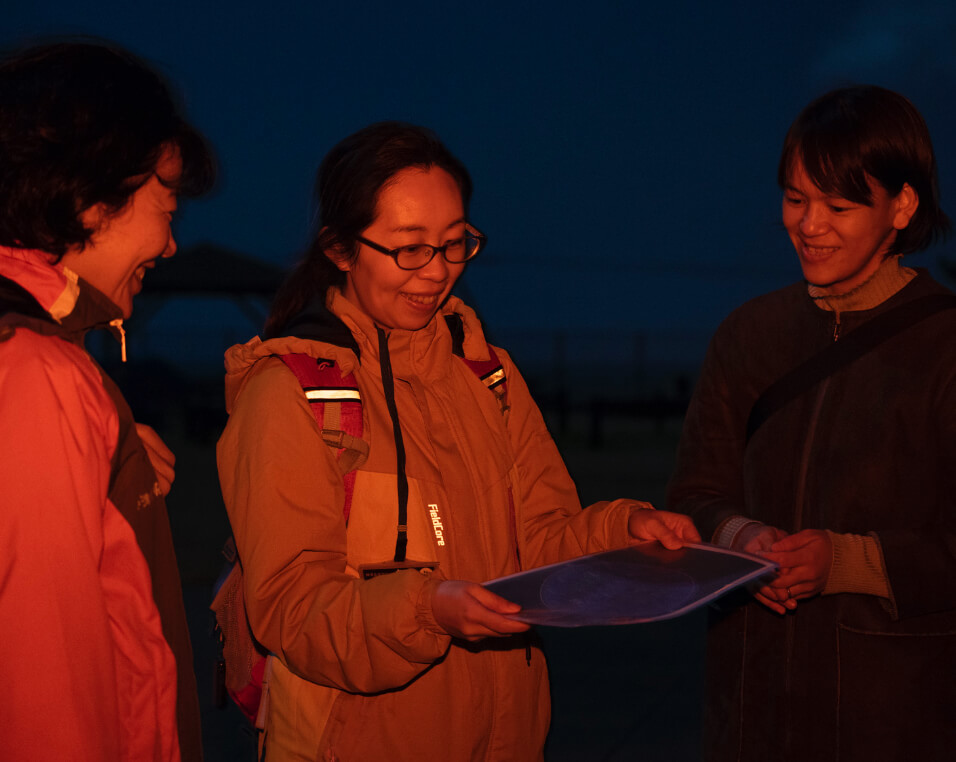 What kind of people will guide me?
Locals who have completed the Kozushima stargazing guide training course will guide you. They are drawn towards this activity by a passion to introduce Kozushima to its guests. Occasionally, stories about local everyday life will liven up the tours.
Note: Stargazing tours are conducted in Japanese only.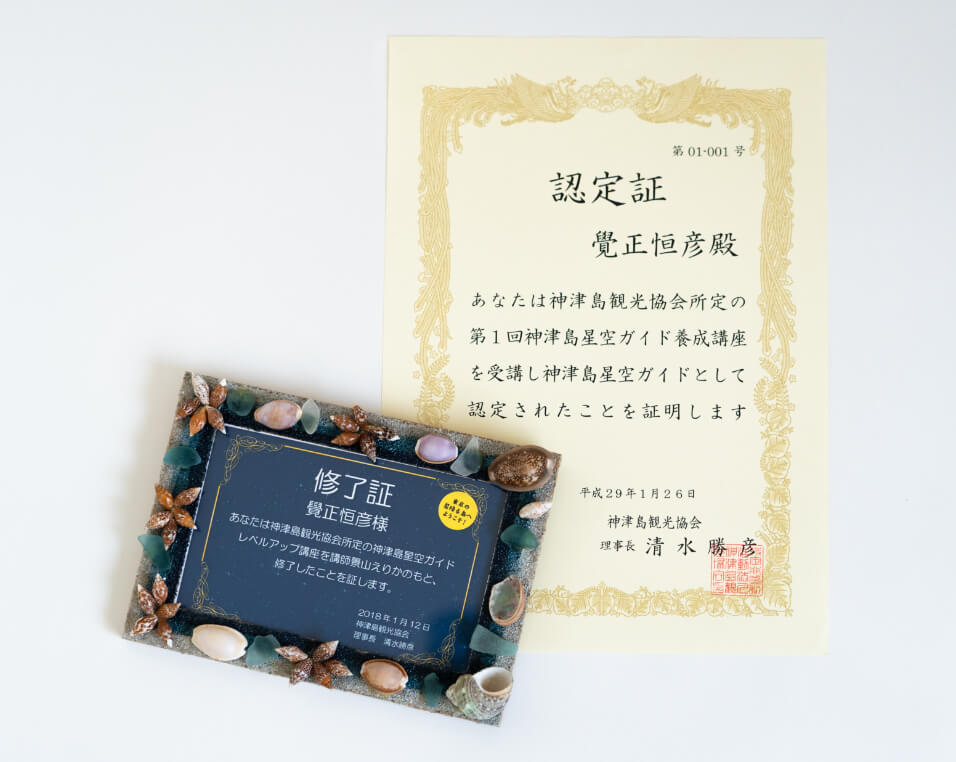 Can the stars always be seen clearly when the weather is good?
Even when the sky is clear around full moon, visibility isn't always good due to the strong moonlight. It could also occasionally be affected by clouds and wind, which can cause the cancellation of tours on any appointed day.

Can I book a tour on the day? Can I participate alone?
Please book 3 days in advance. At least 3 participants are required to implement a tour. However, if there are other bookings on the same day and that totals 3 or more people including you, then you can attend even if you are alone. Please check availability with Kozushima Tourism Association by phone, email or by visiting our office in person.
Note: All information on stargazing tours is provided in Japanese only.

Is there anything I should take to tour?
Your guide will prepare your flashlight and binoculars. All you need is suitable attire for the season. If you'd like to know more about useful stargazing items, then click here.
The island's night view and its residents
Since you are here, why not try a variety of the local food?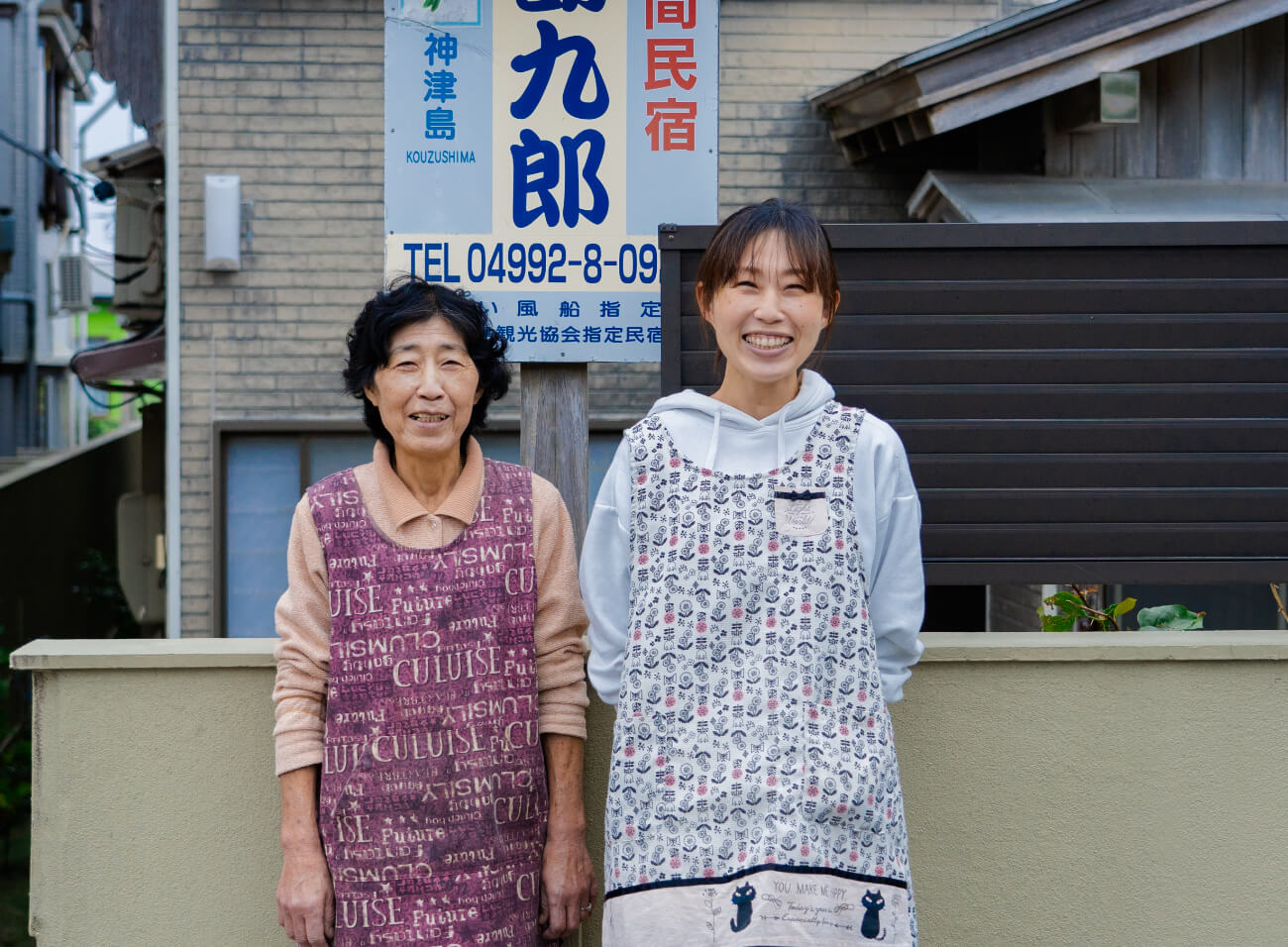 Even if it's your first time, staying at Inn "Kankuro" will make you feel nostalgic. For dinner, lots of dishes with local ingredients fill up the table. Shigemi says "Guests travel all the way to this island. Since it's a great opportunity, I'd like them to try a variety of local food while they are here." Each dish is prepared by Shigemi and her daughter. Sometimes they prepare Onigiri (rice balls) for breakfast if there are guests who come back late from a night of stargazing. In this way, the guests don't miss breakfast even if they sleep in past breakfast. Shigemi and her husband, a carpenter, were both born on Kozushima. They took over this inn from her mother-in-law and have been running it ever since.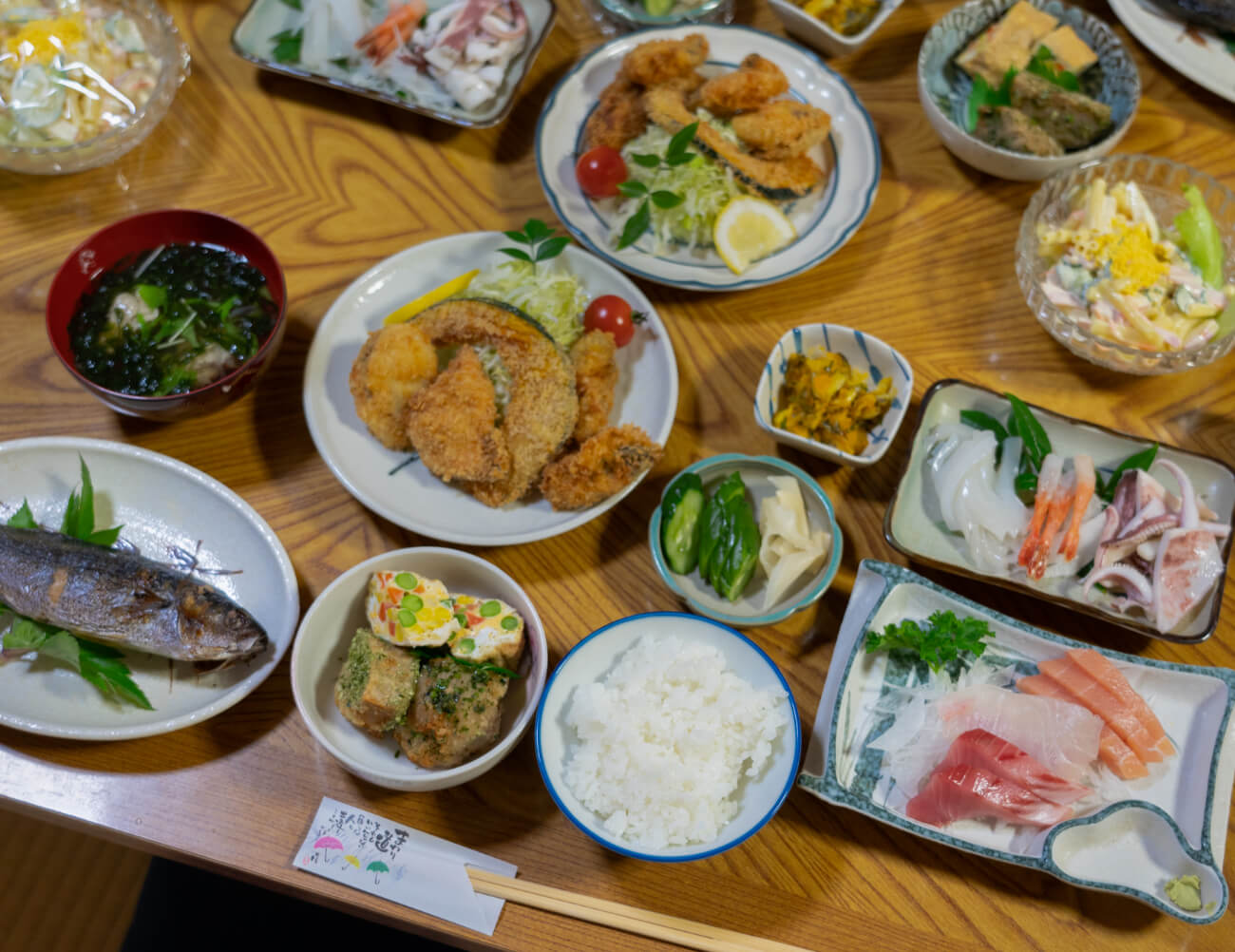 Recently, their inn has been getting more stargazing guests. Shigemi goes "There are lots of daytime activities such as going up Mt. Tenjo or going swimming, but not so many at night. When guests go out for stargazing, I tell them about suitable sites like Yotane square and Akasaki." Lately, new jetfoil was built and Kozushima designated as Dark Sky Island. She's looking forward to seeing more people discover and visit Kozushima. When you visit Kankuro for staying, make sure you get to inn with empty stomach for their lovely meal.
Welfare and tourism are the same in the sense that future generations can benefit from both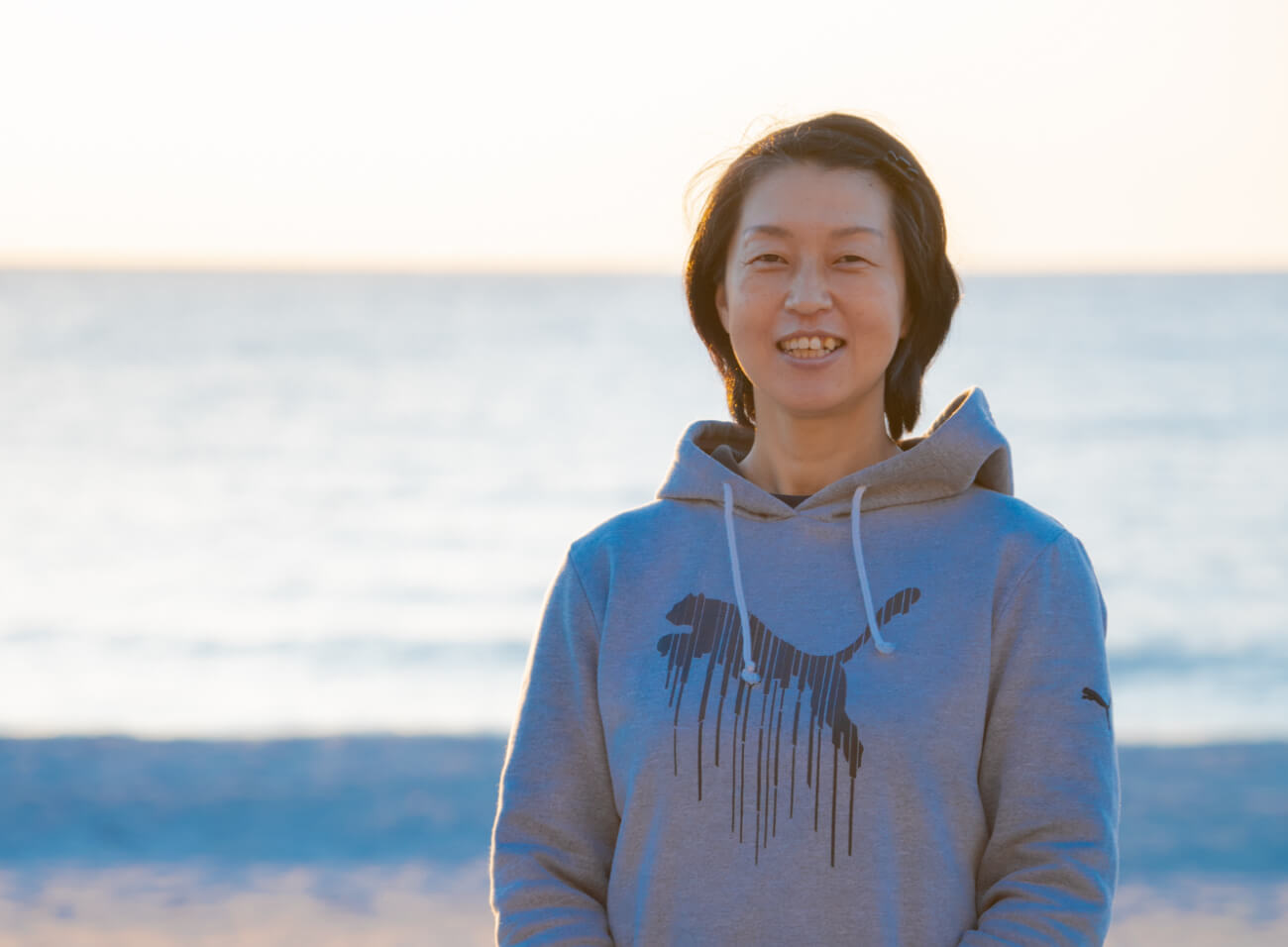 "It was beautiful starry sky yesterday, wasn't it?" says Shinobu. At dawn, around 4am on the way back from night duty at a group home, she saw the North Dipper Seven Stars so clearly on a street where the streetlights had already been updated. Shinobu is the representative of an Incorporated Nonprofit Organization "Shiosainokai" that supports a group home for the elderly, plus the physically and mentally challenged, and organizes activities for them to participate in. She worked hard to get a group home established as there hadn't ever been such a facility on the island before. She feels that this struggle has some parallels with the application process for the designation of Dark Sky Island status.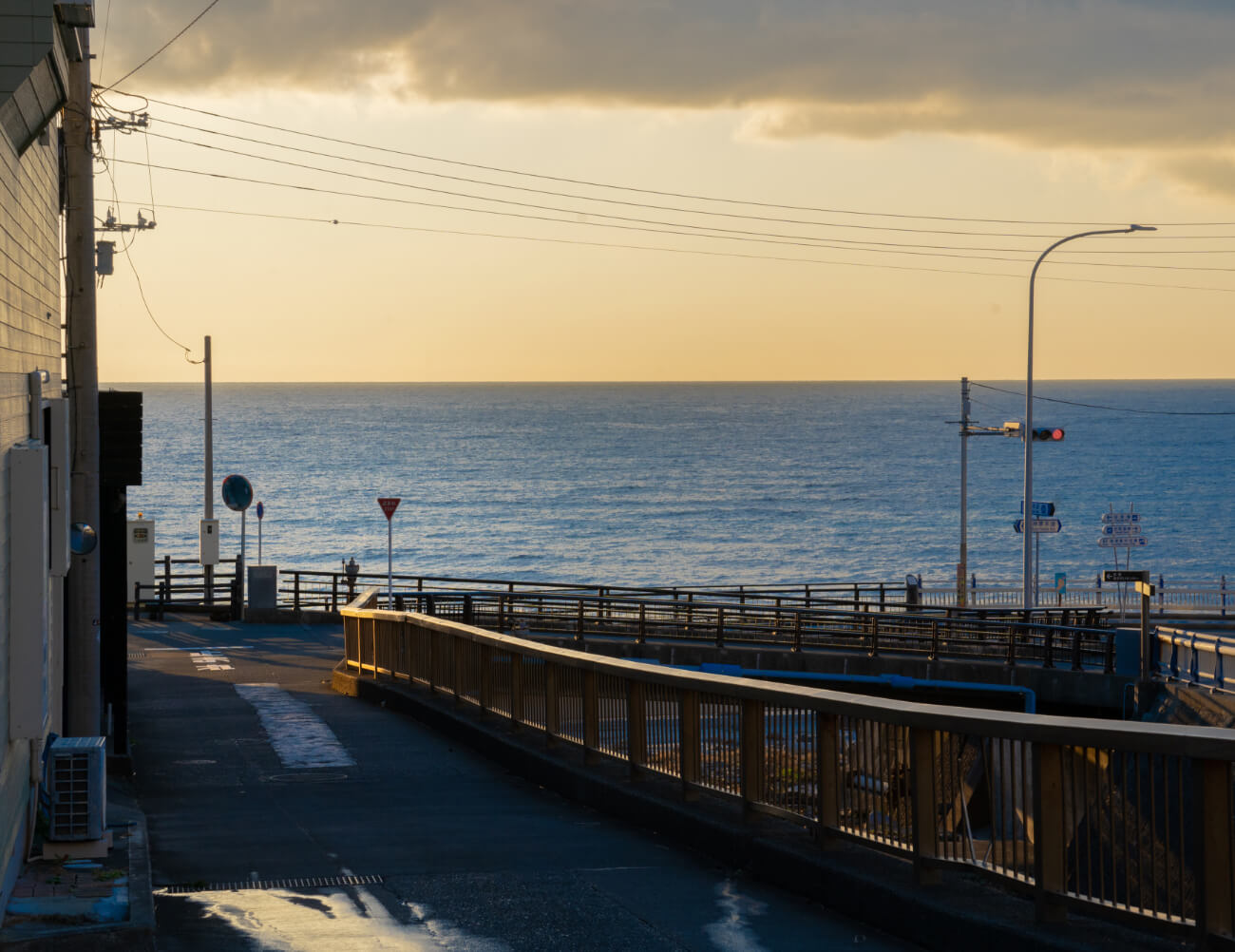 "When I first heard about Kozushima applying for Dark Sky Park status, to be honest, I felt uncomfortable with the idea. I didn't understand why we were not able to be as we were." She was born and raised in Kozushima. She'd never felt that there was anything special about the night sky on the island. She didn't grasp the importance of being designated as a Dark Sky Park with all the hassle that it would entail. However, while she was listening to the explanation about it, she felt "Welfare and tourism are the same in the sense it's an activity for future generations. If there's someone who needs it, then it should be done." The remarkable star-filled night view she saw yesterday made it clear to her what being a Dark Sky Island means for the island and its inhabitants.
The connection between a guided tour & conservation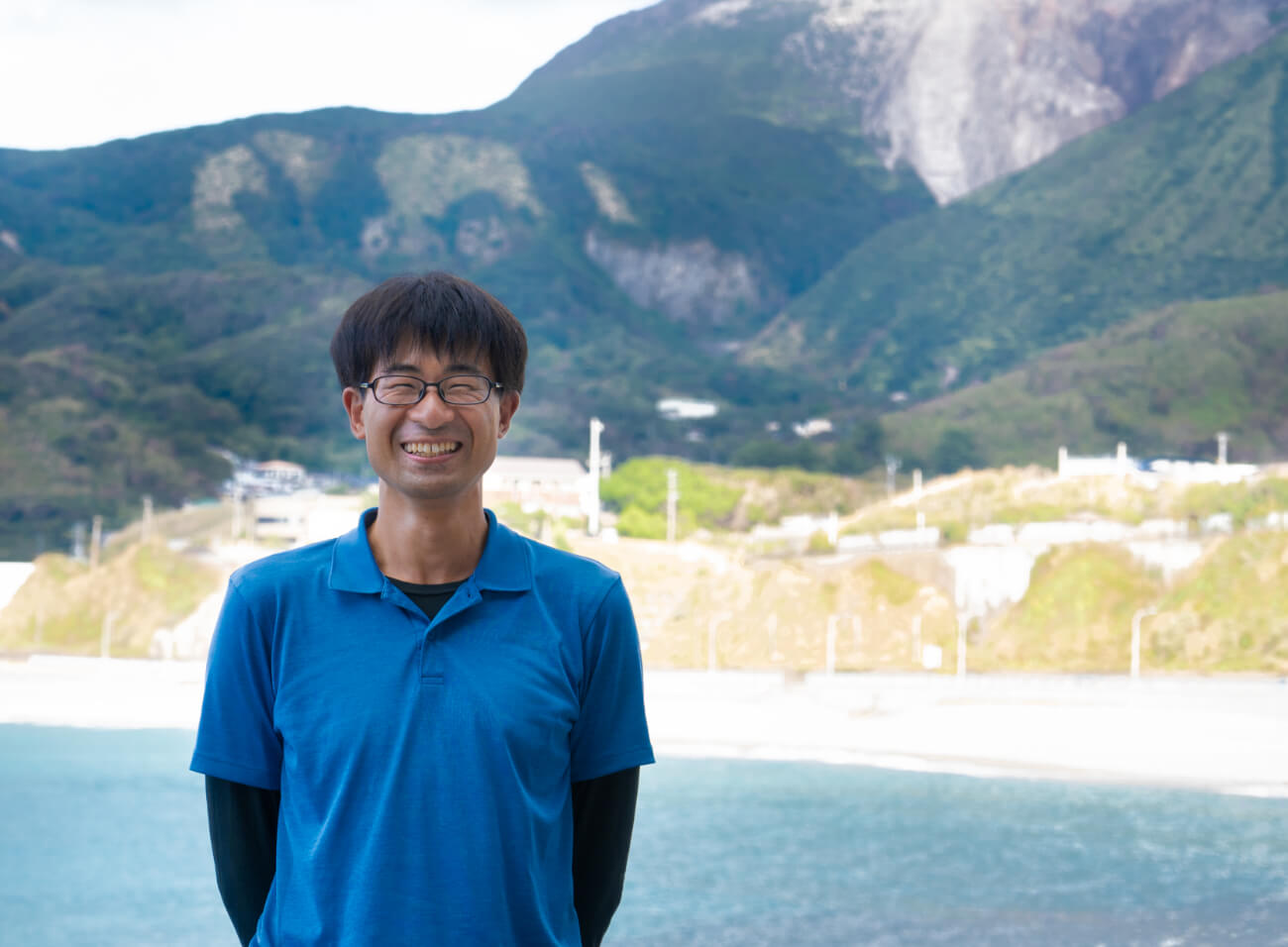 Furuya is a local guide for the stargazing tour and also manages his own guide shop "Full Earth" that conducts tours, such as stargazing and going to Mt. Tenjo. He grew up surrounded by nature in Ibaraki prefecture. He went to school that specialized in nature conservation. Back then, he wasn't interested in the stars. However, after graduating from school he became a nature guide in Ogasawara Islands. This proved to be a turning point for Furuya. "Kids would revisit and show me their research project about the tour they last attended with me. That made me realize that people will take good care of things that they cherish. If our guests attend a tour and get to like nature, they will start taking care of it. That's the moment when the connection between guided tour and nature conservation came into my mind."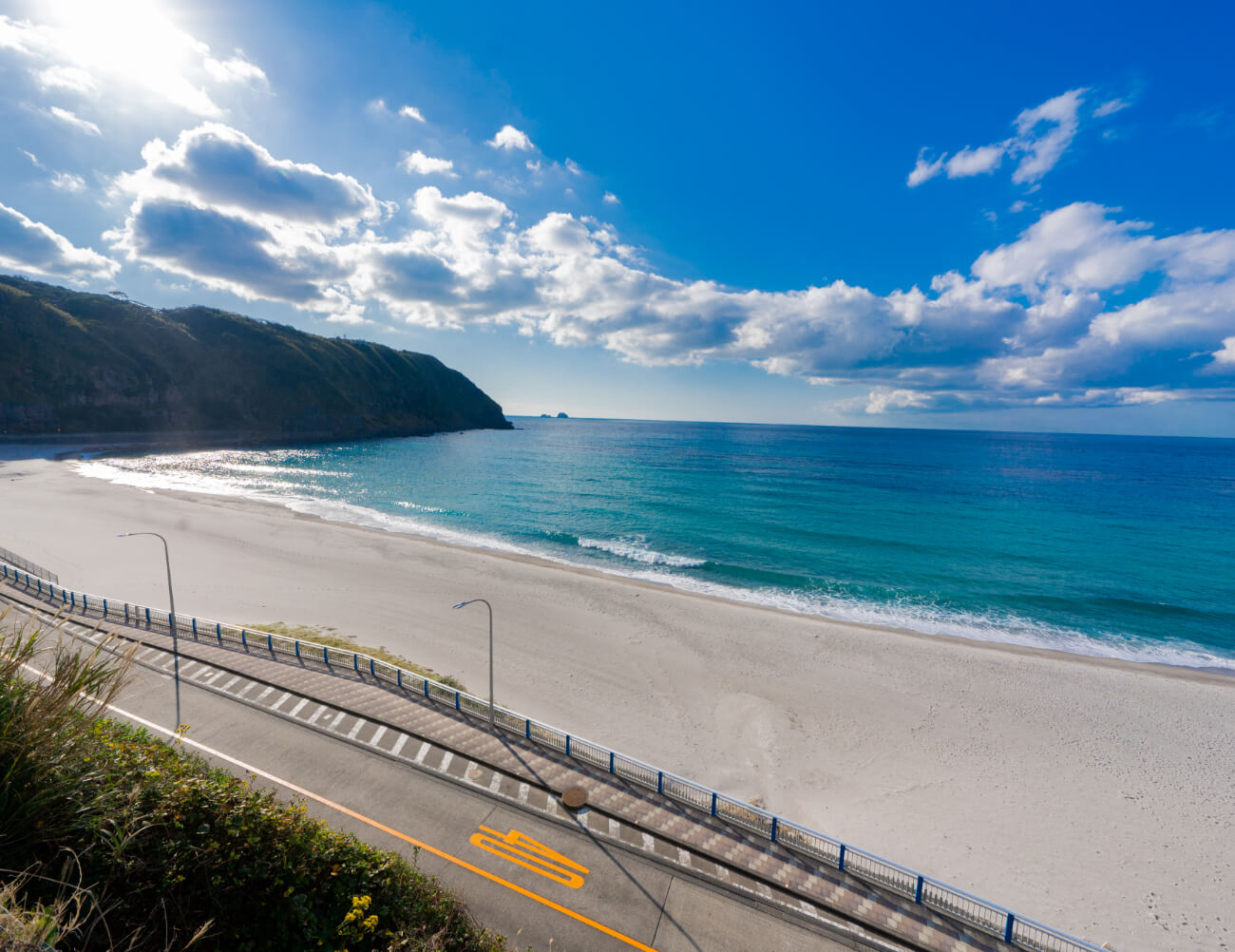 After becoming aware of the importance of guided tours, Furuya went to Tekapo in New Zealand to gain tour guide experience. He settled in Kozushima in 2018. During the course of his journey finding a place to live and start his business, he was moved by the warmth of the people in Kozushima and this is what made up his mind. Furuya provides tours using an astronomical telescope, which is his businesses unique selling point right now. However, there are plenty more things that he wants to try. "Kozushima became a Dark Sky Island a little quickly. There are still more things we can do to preserve our night sky. It might take time, but that's ok. We will just keep working on it and pass it on to future generations. I would be delighted to see a high school student proudly tell friends that he did part-time work as a stargazing guide." said Furuya. He seemed to be having fun picturing it.
An island children can be proud to call home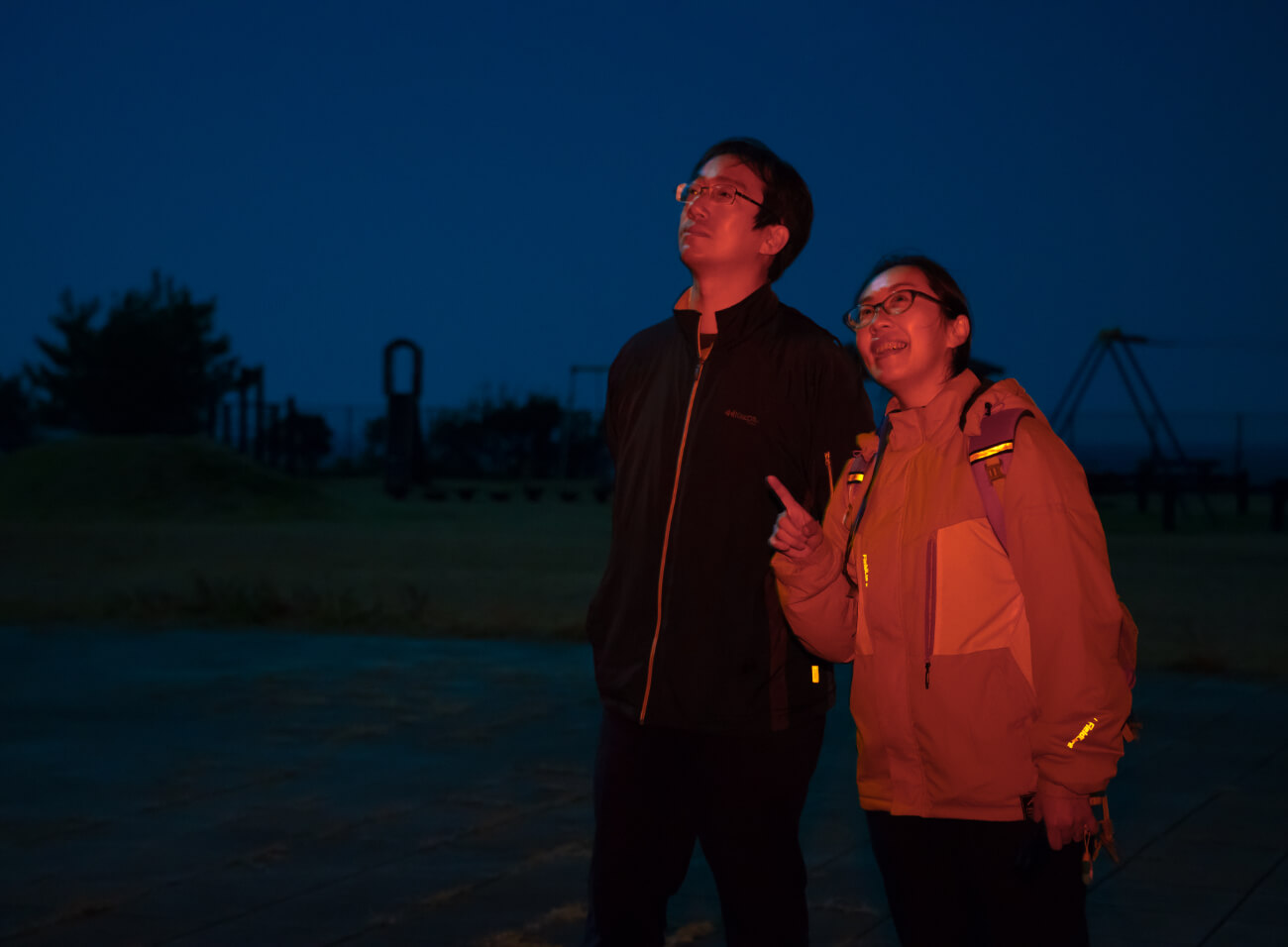 Minami conducts tours in her own way. She changes what she tells people during the tour depending on the type of participants on the night, such as a family, a couple, or an all-girls group. One day she explains about the stars relating them to popular movies, the next she tells romantic constellation-based stories. When she was asked to be a guide, she became one without giving it a lot of thought. However, she's been devoted to the stellar world since then, and now it has become the couple's mutual interest. "Let's go to see a meteor shower" is now often heard in their exchanges.
Minami works at an after-school daycare center, and of course, using her knowledge of stars as a guide, she tells children how interesting astronomy is. She tries various ways to introduce them to the children. For example, she assigns roles to the children, such as the sun & the earth and then has them stand in their right positions in the universe (classroom) to find out why the Milky Way can be seen clearly in summer. "Since they are growing up here, I want the children to be attracted by this island. It might be easier to count what Kozushima doesn't have than it does, but we have marvelous night views, which are beyond comparison! That's how I want them to feel." When children graduate from high school, many of them will leave the island to continue on with their education. She keeps doing her activities out of hope that they will continue to be proud of their hometown of Kozushima, until they return to the island.
Major route to Kozushima
Lots of things to enjoy in daytime in Kozushima!
Kozushima Island is located 180km south of the center of Tokyo. Of course, you can enjoy an excellent night view, but there are many other things to do during the daytime. You can enjoy Mt. Tenjo all year round. It was chosen for "100 Fine Flowers and Mountains" and represents the island. Seasonal plants can be observed here all year round. Akasaki promenade is also one of the most popular sites during summer. It's a famous swimming spot. You can jump from a diving board into crystal clear water and swim among the colorful fish.